I've been a terrible host these past few weeks by not participating in the Naughty List...spank me ;). But I can actually do it this time woohoo!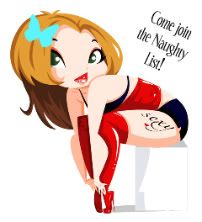 MissC
Jana
CB
Ange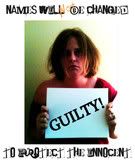 Nanny
Aimee
Kim
Things have changed a bit, we now have questions!
1. Have you ever walked in on a family member in a sexual moment?
No thankfully.
2. Have you ever lied to a significant other?
Yup, haven't we all.
3. Have you ever done the deed with your child (or someone else who was oblivious) in the same room?
MANY MANY TIMES
4. Have you ever not tipped a service person (IE manicurist, waiter, caddy, valet, stripper) for a really stupid reason? (IE Too broke to tip, didn't like how they said hello)
All the time since I'm bad about tipping.
5. Have you ever used your womanly body parts to get you something, or get you out of something?
HAHAH no, I don't have the right kind of equipment for that to work.
Don't forget to link up!!